Theorists claim a "cell-free" wireless system can roughly double the capacity in the same amount of spectrum. UNICOM is now deploying D-Massive MIMO in indoor locations like stadiums and railroad stations. Multiple Huawei Lampsite 5G are joined together in a "Distributed Indoor System." The Chinese telcos are looking for indoor units that cost in the low four figures, much less than current "small cells."
Rather than each Lampsite being a traditional cell, they are all managed in coordination. Up to 64 receive & 64 transmit antennas are centrally managed and optimized.
Essentially, they are all one logical system, reorganized for performance as demand shifts. The software to make this work well needs to be very sophisticated; it must constantly adapt to changes in data traffic.
A traditional system would treat this as multiple cells and have significant interference problems. The DIS does not have "cells" and controls all units to minimize interference and deliver more bits.
China's "New Infrastructure" regulations require 5G indoor coverage but the 2500 MHz to 3700 MHz frequencies do not have good building penetration. Currently, large indoor spaces are covered with "remote radio heads" and distributed antennas.
Neither company has yet provided technical details or detailed measurements. The software is currently a trade secret. I have no way of discovering how close Huawei's current DIS comes to the theoretical capacity. The algorithms will improve greatly with real field data.
Cell-free is the next step after today's 5G.
Separately, Sunrise in Switzerland is using Lampsite in multiple locations and presumably is exploring similar system algorithms.
Here's the pr
China Unicom and Huawei Jointly Initiated Innovative 5G Indoor Distributed Massive MIMO Solution
Apr 09, 2020
[Beijing, China, April 8, 2020] At the China Unicom Beijing and Huawei Release Conference of "5G Capital" Joint Innovation, China Unicom and Huawei jointly announced the initiation of the innovative 5G Indoor Distributed Massive MIMO solution. This solution applies 5G Massive MIMO technology to indoor networks to significantly grow 5G capacity. It marks a significant breakthrough of 5G technology in indoor networks.
Photo 1: Tang Xiongyan, a Chief Scientist of China Unicom Network Technology Research Institute Gave a Speech in Beijing
In the first year of 5G commercial deployment, China Unicom has successfully deployed 5G digital indoor systems in key scenarios across China's major cities. It has also integrated 5G with artificial intelligence, big data, and cloud computing in various industrial solutions. A number of showcase projects have been completed, including telemedicine and smart travel. According to the new-infrastructure requirements released by the Chinese government in March, 5G networks must provide wider indoor coverage and stronger capabilities to accelerate the applications in vertical industries and support the exploration of new business models. These include telemedicine, distance education, and online office. Ensuring 5G indoor coverage while enabling support for differentiated industrial applications and long-term evolution has grown into a pressing priority.
The 5G Indoor Distributed Massive MIMO solution is developed based on Huawei's leading 5G LampSite Digital Indoor System (DIS). It introduces the Massive MIMO technology to LampSite to form distributed Massive MIMO antenna arrays supporting up to 64T64R ability. Through dynamic coordination among multiple digital indoor headends, the capacity on indoor networks becomes scalable, self-adapting to changes in data traffic. In addition, compared with the cell splitting approach, both interference and manual commissioning costs are significantly reduced, while also effectively increasing 5G indoor spectral efficiency. As a result, the networks support higher capacity and stronger capabilities. This innovation also provides an efficient solution to increasing the uplink capacity for the vertical industries.
Photo 2:Ritchie Peng, CMO of Huawei's Wireless Network Product Line Announce the Release in Shanghai
Tang Xiongyan, a Chief Scientist of China Unicom Network Technology Research Institute, said: "China Unicom will continue to build high-quality 5G networks that provide users with premium experiences and industries with optimal 5G solutions. China Unicom and Huawei have jointly achieved the world's first commercial deployment of 300 MHz indoor ultra-bandwidth product. This will lay a solid foundation for the efficient deployment of 5G networks. In the future, high capacity and high value scenarios with scalable capacity requirements will increase. This requires network solution innovation beforehand to ensure that one-time deployment supports long-term service demand with minimum network modifications. 5G Indoor Distributed Massive MIMO is an innovation helping address this challenge. We will work with Huawei to verify and optimize this solution in multiple key heavy-traffic scenarios based on historical traffic, ensuring it can better meet indoor 5G demand and reduce the time for scaled commercialization."
Ritchie Peng, CMO of Huawei's Wireless Network Product Line, said: "Based on our long-term investment in indoor digitalization region, we released the full-scenario 5G DIS product and solutions in February 2020 to enable better indoor coverage and superior 5G networks. Faced with growing scalability demand for uplink and downlink capacity, we successfully introduced Massive MIMO technology to indoor networks in close collaboration with China Unicom. This technological breakthrough will substantially increase 5G capacity. We will continue to make technological innovations and develop leading solutions that address the exact requirements of customers."
Sunrise and Huawei Announced Multiple 5G Indoor Deployments in Switzerland
Huawei TechnologiesOctober 22, 2019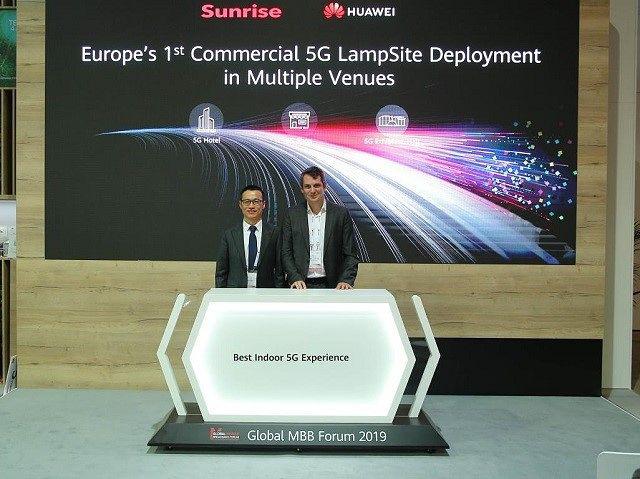 Joint announcement by Marvin Chen (left), president of Huawei DIS product lineand Michael Martin (right), director of Radio Transport Service Management of Sunrise
Zurich, Switzerland – ( NewMediaWire ) – October 22, 2019 – Recently, Sunrise and Huawei jointly announced 5G indoor deployments in multiple venues including Sunrise shops, hotels and an exhibition hall. This is the first batch of commercial 5G indoor networks in Switzerland and Europe using Huawei 5G LampSite solution.
In 5G era, indoor scenarios are highly important as indoor 5G will serve not only personal usages but also many vertical industry use cases. With the aim to provide the best 5G experience, Sunrise's strategy is to build up a 5G system based on cutting-edge technologies and future-proof architectures. Transitioning from traditional DAS to state-of-the-art DIS (digital indoor system) is the first step while planning for multi-operator availability to improve investment efficiency is the next step in the near future.
In May, Sunrise started 5G deployments in Sunrise Shops when 5G was officially launched in Switzerland. Customers are now able to try out 1Gb/s ultra-fast speeds and multiple 5G services in Sunrise Shops when they switch to 5G. In October, the 10th Global Mobile Broadband Forum was held in Zurich. Sunrise and Huawei jointly deployed 5G in Zurich Marriott hotel, Holiday Inn hotel and Zurich exhibition hall using Huawei 5G LampSite solution. With the empowerment of 5G indoor network, global attendees enjoyed supreme 5G experiences at the hotel and many innovative applications such as cloud gaming, cloud VR during the MBBF event. 5G LampSite, which features digital headend "pRRU" and IT cabling, is easy to install and ready for long-term evolution. It has been and will continue to serve as an integral part to Sunrise's 5G network.
Michael Martin, director of Radio Transport Service Management of Sunrise, said: "5G will bring huge benefits to society. As the 5G leading operator in Switzerland, Sunrise aims to provide best 5G experience to our customers and generate new business for enterprises. Since a big portion of traffic is naturally happening indoor, we are very happy to be able to deploy Huawei LampSite solution in order to provide supreme 5G service indoor."
Marvin Chen, president of Huawei DIS product line, said: "Sunrise is a 5G pioneer in Switzerland and Europe. The 5G LampSite deployments in exhibition hall and hotels in Zurich are a powerful showcase that indoor 5G is becoming part of main strategy of operators. We hope to work closely with Sunrise to pave the way to 5G innovation in various verticals and scenarios."